1987 : Conception, with Historian Jacques Le Goff (specialist of the Middle Age), of a Ten-volumes collection, « The Epic of Western Culture », with Umberto Eco, Hélène Ahrweiler, David Landes, Leszek Kolakowski and other well-known authors and advisors.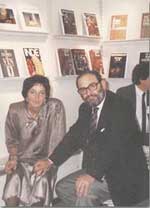 Frankfurt Fair 1988 : with Umberto Eco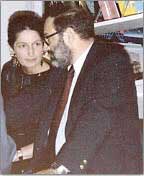 The schism between the two founders of Hologramme stopped the project.
I had developed it at the point it where it was ready to go (dummy, synopsis of each of the ten books, photos…) under the form of a series of books or/and a DVD-ROM.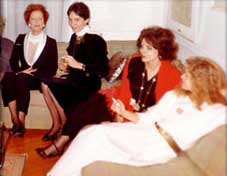 In the « salon » of Karin Brincourt, with writers Vénus Khourighata and Claire Gallois.

Other Books published at Hologramme :
Horses and Passion (co-publication with Robert Laffont) was written by an international champion, William C. Steinkraus, at the time President of the US Olympic Team, Gold Medalist at the Olympic Games in Mexico, in 1968, and the wonderful Marjorie A. Stoneridge. From Chantilly to Windsor, from Aix-la-Chapelle to Saratoga, from the Hungarian Plains to the Pampas of Argentina.
In The last Dawn of the world (published by Doubleday in the States, with a written preface by Elizabeth Antébi), a French Indiana Jones, Alain Chenevière, ethnologist, and specialist in disappearing civilisations, had published for the first time magical photos from the jungles of Borneo to the mountains of Pakistan.
http://www.biblio.com/books/7686167.html : "New York: Doubleday & Company Inc.. (1987) First American Edition Stated. Book Near Fine in a Very Good Plus Dust Jacket. This book is a culmination of the long mission that author/photographer Alain Cheneviere began over twenty years ago. He lived with over two hundred vanishing tribes from the jungles of Borneo to the banks of the River Omo. Cheneveiere introduces us to men, women and children who still live as they did at the dawn of civilization among the gods and spirits. The book consentrates on 20 tribes. Stunning color photographs reveal how successfully the author incorporated himself into their daily life, and his vivid descriptions are accompanied by a traditional legend from each tribe. The book concludes with a section on the evolution of primary and secondary races along with notes on emigration, linguistic classification and phenomenon of isolation. Eight pages of charts trace the various ethnolinguistic families, groups, sub-groups and races. Beige boards with white title print to front board and spine. No ownership markings. Price-clipped photo dust jacket. A very impressive copy.. ISBN: 0-385-23897-5. Ethnology Native Races Acculturation Tales Photography. Catalogs: Anthropology." (www.biblio.com)
Ordalie par les roses was a book of photos of the Japanese writer Mishima, who committed seppuku (suicide), by Eikoh Hosoe.
Vladimir Volkoff wrote the introduction to the book Légionnaires - photos by Jane Evelyn Atwood, first laureate of the W. Eugene Smith Prize, in 1980.
A superb book by Japanese Photographer Hiroji Kubota, born in Tokyo in 1939 and photographer in New York, on China, with a preface by French writer Georges Walter.

Another photographer Hiroshi Hamaya, born in 1915 in Tokyo, has been listed « living heritage » in Japan. His book, Emergency of Earth, retraces twenty years of an expedition from China to Finland, from Alaska to Bolivia, from Brazil to Japan « Hamaya represents for me a Japanese Adam, who had eaten the same apple but was never expelled from Paradise.» Ernst Haas.

For the French version of this book on Scotland, by Michaël Ruetz (born in Berlin in 1940), the preface was written by Kenneth White a French writer of Scottish origin.


With a preface by Cornell Capa, 152 black and white photos by one of the pioneers of photography, born in Budapest in 1894, who died in New York in 1985. Three-tone offset impression by Benrido, paper made to order by Tokushu Seishi.



This collection of Cookery Books, directed from its origin by Henri Viard, has been very successful. Viard wrote Eloge de la Gourmandise (published in English by New York Graphic Society, Boston, and in Japanese by Shinshosha, Tokyo) with photos by Gilles Peress and Miguel Rio Brando, and Il n'est bon bec que de Paris with James Johnson. Italian cuisine was celebrated by A. Piccinardi and J. Johnson, with photos by Ian Berry et Patrick Zachmann , with a preface written by Comte Giovanni Nuvoletti Perdomini. The Délices de Chine were presented by Kevin Sinclair, columnist at the South China Morning Post, in Hong Kong.