Régis Vrillaud et Christine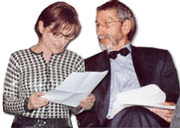 I would never have thought that, in a corny Holiday Club in Switzerland, I could ever meet such a sophisticated, interesting and well-educated man as my friend Régis Vrillaud. He materialized suddenly at a lunch and defended me in a discussion against a fierce unionist. He repeated my arguments, with a sweet, male voice and the vulture became a turtledove. Later, I met his wife, Christine, loyal, generous, with huge courage and a decisive spirit. Christine brought in his car the piano given to me for my Ph.D. by a few friends, among them Theodore Komanievski and Marie-Madeleine Chapuis, and also the Kutners. Regis and Christine are the kind of people who help to embellish life.



Katleen Wallerand

My friend, the gorgeous Katleen was my guide and companion of exploration when I investigated in the West Indies and Guyana to direct and partly write the encyclopaedia Arawak. She was also, often, the muse and inspiration of it. She came with me to Haiti, Guyana, and Dominique and translated Creole. We experienced a lot of funny, dangerous, ordinary and extraordinary situations to which she always lent a nimbus of poetry, fantasy, romanticism.
With this wonderful defrocked Presbyterian priest who then became a specialist of Zen Buddhism, whom I filmed a few months before his death for the TV (programme « A way of looking… », Un Certain Regard), we actually met a few weeks after the end of the filming, in Paris, at the home of the editor in chief of a magazine dedicated to Psychology, Jacques Mousseau. That evening, for the first time, we really exchanged ideas and feelings. And we were very happy to meet again just after the presentation of the film. But Watts died suddenly… on my saint's day ! When I look again at the film today, I discover me, as a young peremptory scatterbrain (western style), facing that Shakespearian actor dressed in kimono, who shot with a bow and accomplished the tea ceremony.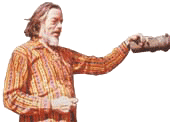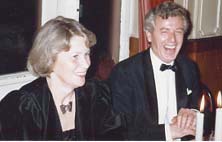 We met eachother in a castle in Touraine (« Château de la Loire »), talking across the tables. I met them again in Frankfurt, where I went each year for a while, for the Frankfurt Book Fair. I lived in their house and Hanne is the best hostess I've ever known, putting a chocolate on my pillow, Wolfgang preparing nice cocktails and cooking quail with her.

Poet who came to us from Scotland – the country that invented God to have somebody tough with whom to be able to discourse– Kenneth White is a man of open space. He lives in Brittany with his wife Marie-Claude, his translator but also photographer of sands and the eternity of the ephemeral. I wrote an article about him in 1983 for a Swiss magazine, Le Temps Stratégique, recently gone out of production…
I met Ilios when I was writing a report on writer Vassilikos (« Z ») and Greeks who were against the dictatorhip of the colonels, Ilios became, then, – after my article on Artur London for the Magazine Littéraire – one of the advisors for my book, Droit d'asiles en Union Soviétique ("The right of asylums in the Soviet Union"). A Greek born in Egypt, member of the Communist Party, he found himself, after a lot of dreadful and picaresque adventures, in Czech jails, with former minister London, precisely. Exiled in France, he taught, at the University of Lille, the mechanisms of Communist language. In 1976, he had himself been a victim of one of those slaps in the face given by history : from a Czech peasant woman he had had two daughters, already teenagers before they could finally come to France. One of them, victim of the brainwashing imposed on her earlier, could not endure the change: she threw herself from the balcony and died. I recently saw Ilios, he had just come back from a mission in former Yugoslavia. When I began to ask questions, he lifted his eyes to heaven.
In the plane for Persepolis, on the occasion of the 2500th Anniversary of the Foundation of the Persian Empire, with all the journalists and the tiered cake of the "pâtissier" Potel et Chabot, Leon Zitrone was seated beside me. It was a privilege, Zitrone being the absolute TV star of his time, something like Walter Cronkite plus Barbara Walters, in that period when television was in infancy. At the end of the flight, after a motor on fire at the right, another motor on fire two minutes later at the left, and a bomb alert (defused), and to crown it all half-broken landing gear, we remained hand in hand, looking at the fire hoses at Teheran airport. A few of us took the next plane, a Caravelle to Persepolis or Ispahan, I don't remember. For three days I had the flu and between two programmes, Leon came to feed me and give me medication. He was a workaholic, speaking five or six languages, funny and ferocious, happy to receive me in Paris, Place Clichy, with this wife : there, the friend of the Shabanou, the Queen of England and Grandees of all kinds, slipped with delight on his slippers.