Ilona von Ledebur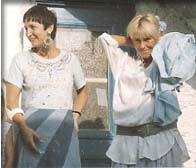 This eminently poetic personality was a long time my friend before leaving for Greece where she now lives. I met her, when I was sent by Maurice Dalinval to an International Conference on Pollution in Stockholm, which I had to film for the Advertising Agency Publicis in France, and an Insurance group. Infuriated, already, by this tidal wave of sexuality orbis et urbis, I once invented a lecture on the other side of the city, very far away, on the so-called « erotico-ecological niches within the cities of the future", and invited congressmen to it. Sitting a few tables away, Ilona, who was a psychiatrist of Polish origin, asked me for the (imaginary) address and I gave it to her. When she left, I felt remorse and called her back to confess that it was just a joke. Then, we talked together and she invited me to her house, at Älgö, a splendid castle on the sea, and later at Kalamata, Greece, near the engulfed mythical cities.
Organiser for the Ford Foundation of the Conference of Cracow between East and West, to take stock of the situation after the Helsinki Conference (on the « free circulation of information ») and to prepare for the next Conference in Beograd, Ivo was an American of Yugoslav origin, born in December 1929 in Zagreb, who taught successively at Princeton, Yale and Stanford. His family fled Yugoslavia in 1941, through Italy where they were detained, just before the liberation of Rome. Then, during the Summer 1944, everybody embarked from Naples for the States. This man, of fifty years or more, kept intact in his heart the feeling of excitement and rejoicing he had when arriving for the first time in Times Square. He loved passionately, devotedly America, the source of everything becoming possible. When we met again in New York, he was a great help to me in finding information for the book I was writing on Droit d'asiles en Union soviétique (« The Right of Asylums in the Soviet Union »).

Another of my tutelary angels, Jacques Le Goff, worked with me on the creation of a collection on The Epic of Western Culture. We conceived the dummies and chose the authors together. Thanks to him, I was received in Rimini by Umberto Eco (Le Goff was the Historical advisor for the film from Eco's book, The Name of the Rose), or at the Sorbonne by the then President, Hélène Ahrweiler. Thanks to him, also, I got to know my dear David Landes, now Professor Emeritus at Harvard University, who was on my jury for my Ph. D. We also outlined with Jacques Le Goff a project on the Géographie de l'Au-delà ("Geography of the World Beyond"),but we had to stop for financial and health reasons. Jacques did me the favour of always placing himself in counterpoint to my work, he was one of the "rapporteurs" for my Dissertation at the Practical School of High Studies, and I hold for him a deep admiration and affection.



Geneviève de Lorgerie
and Windsor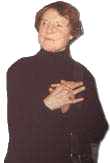 I showed up, one rainy night and between two gendarmes, at The Quengo, the castle of Mrs de Lorgerie, in Irodouer: with a friend (she drove the car) we had got lost and the gendarmes decided to show us the way to this very special and exquisite "bed and breakfast", surrounded by a park near a pond, with a little chapel in the garden.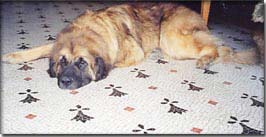 It was love at first sight for the manor, the landlady, the dog Windsor – a lady Leondberg to whom a gave my daughter (then, seven) to watch. Our chatelaine introduces, even now, a poetic out-of-date climate of true aristocracy, from heart and spirit. She seems to have come directly out of the pages of an old book of tales. Born at the extreme frontier of Brittany, Brest, she embodies this part of a magic land, secret but also sweet, with its hidden asperities and blue hydrangeas.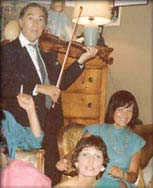 She was something like a Polish Joan Baez, very famous in her country before coming to France where I met her in a Russian night-club, Tsarevitch. Beautiful and generous, with the sense of the rhythm of blues as well as of the gypsy lament, Helena (on the right in the photo. With our friend, violinist, Jean Malvault, Prizewinner at the Conservatory of Music) was a long time my partying friend, protecting me on those nights of drift, with a side to her that was an ogress, from time to time. She died brutally in Poland, just before the new millennium, after a TV comeback show. I'm looking now for recent or less recent recordings of her songs…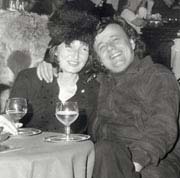 Marcello, Guignol puppet of Anemone (he wrote for me a play called "An Anemone for Guignol", because when we met, I had this flower in my hair), actor and producer, born in Lyon in France, entered my literary and personal life the day André Calles took me out to a ball at the home of the treasurer of the Communist Party, with an exclusive (and extensive) orchestra of the very fancy Pavillon d'Armenonville (sic). In Avignon, where he played on the Festival stage Hölderlin by German poet Novalis, he brawled against somebody who teased me. At the Festival of Orange, he answered for me to a nasty remark. He had, indeed, always had something of the valiant knight. When I wrote my report on the mental hospitals for Russian dissidents, he supported me despite his friendships and inclination… close to the Party. Courageous, sometimes unwise, sure of his (huge) charm, of his energy, he could have been a French Orson Wells. He had chosen another way – the direction of theatre, in Lyon, Marseille or Paris, and now he is permanently on tour with his itinerant company of the Tréteaux de France ("The Trestles of France") …