RESEARCH

Looking back, I believe that it was my first approach to the main field of enquiry of my life, the study of the mechanisms of balance and the conflict between Good and Evil, Religion and Power, Lies and Truth, Memory and Treason or Oblivion. At the time, reading the story of Charles Manson and his "family", and Sharon Tate's murder, I had the idea of a book on Devil and his meaning for the Western world. And it was kind of premonition, if I look at what is happening nowadays … I wanted to meet the « black shadows » of our century, like Julius Evola, dadaïst painter, expert in Hinduism and Buddhism, and consultant for Benito Mussolini; or Prof. Banerjee, of Jaïpur University, who was involved in many programmes of research, committed as much to KGB as to CIA.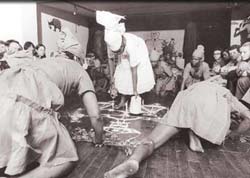 It was also my first meeting with Voodoo, through the Voodoo Club, in Paris, founded by great dancer and mambo (female priest) Mathilda Beauvoir.


Voodoo ceremony at Mathilda's Club, for the publication of the book by her husband, Claude Planson, for whom I was, at the time, Public Relations Manager. I'm on the left, with journalist Alain-Marie Carron, of Le Monde.






I met also for an interview Pierre Schaeffer (former student of Gurdjieff) … who hired me, subsequently for the President of the French TV's Research Department.




SUMMARY
Magic, today, no longer takes the face of Satan to wreak havoc. It has, also, fascinating new names such as : technology, mass media, advertising (the cousin of hypnosis), IT, cybernetics, rave… Not to mention all kinds of fanatically religious sects, whose God is nearer to the Devil than to anything divine.

From Tsar Nicolas II right through to Adolf Hitler – with Papus, Raspoutine or Hanussen – from Gurdjieff to the « Dyers of the Moon », esotericism reigns. From time to time a scandal happens, when people hear with horror about such things as the disappearance of the children of Marsal Magus, or the ritual murder of Sharon Tate. But, in fact through much of our everyday lives we are actually mixing with thousands of possessed people, members of aberrant initiatory chapels. Elizabeth Antebi introduces us to that worrying and (apparently) marginal world, through reports, and through interviews with well-informed personalities – philosopher Raymond Abellio, the Father of Modern Music and President of the French TV's Research Department Pierre Schaeffer, businessman Louis Armand, Julius Evola, Grey Eminency of Benito Mussolini, Pr. Banerjee, of the University of Jaïpur (Indes) connected with NASA and with the para-psychological Research Institute of Leningrad, and Father Gesland, exorcist of the Archibishop of Paris' palace.

This book is a dark descent into the underworld of the West.

PRESS BOOK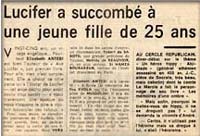 The Press was amazingly good. More than 100 000 copies of the book have been sold. The « Mistress of the Gossips », Carmen Tessier, of France-Soir wrote an article for her famous column entitled Lucifer has been seduced by a young girl of 25 :
« Age: twenty-five, the face of an angel … Nevertheless, Elizabeth Antébi is the author of Ave Lucifer, her first book. She doesn't understand why it is surprising. She has chosen the title because, for her, like Lucifer - the favourite angel of God, fallen because of too much curiosity and boldness - 'we live in a time when we will risk anything to overcome our limits' »
The Israeli « Lady of Gossip » (Myra Avrech) also wrote an enthusiastic article. Minute published a wonderful photo by François Roboth. A very romantic photo by the great photographer Robert Lattès also appeared in many papers, of which Elle was one. The book was immediately published in a pocket collection, J'Ai Lu, thanks to Jacques Sadoul, and then was distributed in Spain.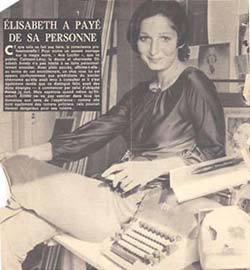 Photos of Roboth, Lattès :
and article of Myra Avrech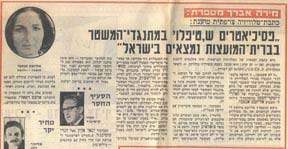 and the «Chronicle of the Weird» by Straton le Nîmois, in Point-de-Vue-Images-du-Monde :

« Our young and charming colleague at L'Express, Elizabeth Antébi, has tackled immediately, with great honesty and talent, a very delicate subject – highlighted recently in the dreadful Sharon Tate affair – that is, Magic, and in particular the presence of the Devil in the West, and the forms it takes. We can find in her book remarkable chapters, and valuable interviews that she has conducted with Pierre Schaeffer, Raymond Abellio, Philippe Lavastine,the exorcist priest attached to the Archibishop of Paris, Louis Armand, Julius Evola, Grey Eminency of Mussolini, and Pr. Banerjee, parapsychologist at the University of Jaïpur. » Dominique Gaussen, Tonus.

« Last Monday evening I was at the bar of the Music-hall Olympia where Elizabeth Antébi, a pretty and charming 25-year-old brunette in a long black dress, celebrated the publication of her book Ave Lucifer.[…] An intelligent essay, in which the author explores the place of the Magic (under many forms and many names) in the XXth Century. Isn't, for example, advertising or the manipulation of crowds a form of Magic ? I'm amazed how such a young girl could have crammed her brain with so many books and articles just to give us the "juice" of it.»
Yves Grosrichard, La Montagne.

« A very clever work, incorporating knowledge, assessment and doubt, well written and well thought-through » L.C. La Montagne.

« Another recent book : Ave Lucifer by Elizabeth Antébi (Calmann-Lévy). The devil is not only hidden in ourselves, he is loitering everywhere. Modern theatre, from Grotowski to Living Theater, from Bread and Puppett to Arrabal, wards off Hell celebrating precisely the Passion of Satan, and tries to exorcise our demons by playing their game, as witches do with the practice of using scapegoats. The relationship between the mass-media and magic is perhaps more subtle : when a lot of people, for example, watch the same programme at the same time, the phenomenon of the re-creation of a collective thought happens, which is very close to telepathy or clairvoyance. » Anne-Marie Cazalis, Elle

«In her investigation, Elizabeth Antebi talked to people who could never be suspected of witchcraft, like businessman Louis Armand, who says : 'To ask us to suppress Magic in our lives would be as strange as to ask us to suppress our vertebrae, because they both date from the fish!'» L'Aurore

«Is Lucifer walking amongst us ? Is Lucifer within us ? The reader can judge, and ask himself, with E. Antébi, whether 'modern society is not very close to a magical civilization, resulting from and opposing the reigning scientific civilization.» L'Echo de Saint-Etienne

« Original and entirely unexpected. » Hervé Lauwick, Jours de France

« A book of immense interest ». Dernière Heure, Bruxelles.

«What are the connections between Nazism and secret societies ? The connections between politicians, priests, physicians and some secret researches – for good or evil ? Fascinating reports, interviews with experts from many fields, exegesis of rare books – A damned bewitching essay. » Figaro Littéraire


And Post-Scriptum, a TV Literary show by Michel Polac, presented a special programme on Esotericism in the first week of January 1971, 'with Louis Pauwels, René Alleau, Raymond Abellio, and Elizabeth Antébi'… This was the start of my career in television.